Discover the Benton Fry Ford Experience
Welcome to Benton Fry Ford, located in Belleville, Ontario, on the Bay of Quinte near Brighton, Trenton, Kingston, Coburg and Prince Edward County. Benton Fry Ford is a trusted car dealership serving the local community and beyond. As a premier Ford car dealer in Belleville, Ontario, Benton Fry Ford offers an extensive range of new and used vehicles to suit every customer's needs, preferences and budget. With a commitment to exceptional customer service and a wide selection of vehicles, including used cars, smart cars and EVs, Benton Fry Ford has established itself as a leading new and used car dealership in Belleville, Ontario and the surrounding areas.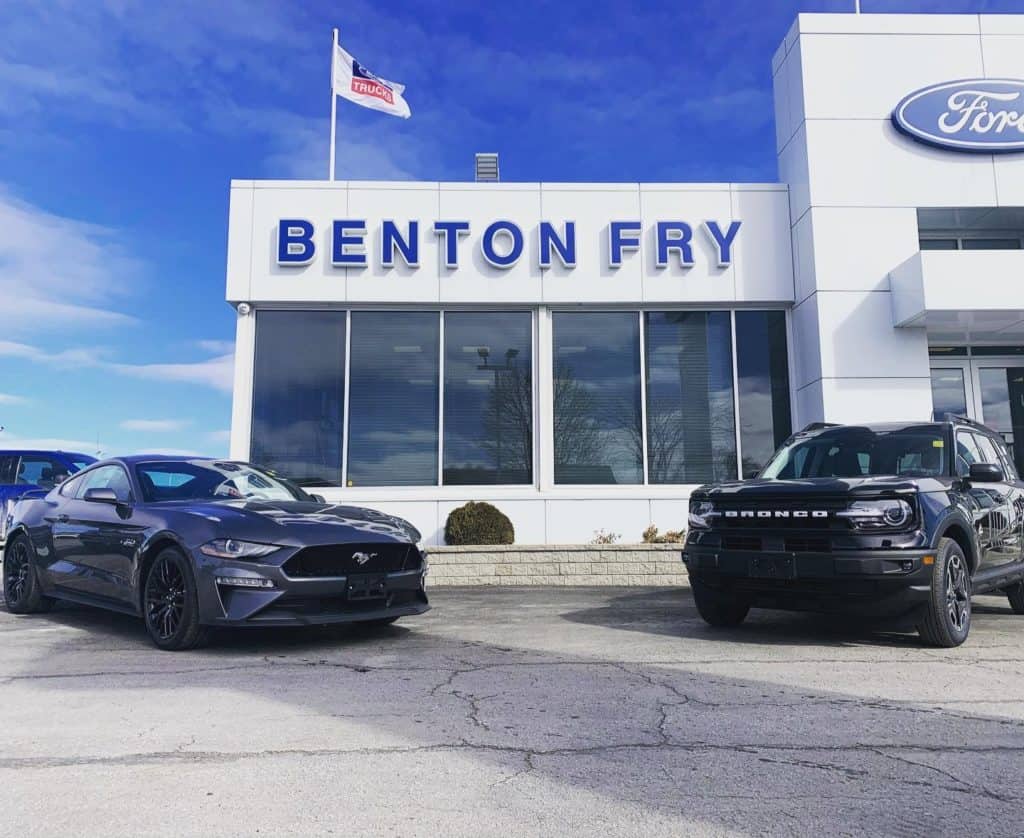 Conveniently located in Belleville, this car dealership is easily accessible, making it a popular choice for customers in the area and beyond. Whether in Belleville or beyond, Benton Fry Ford is your trusted Ontario Ford dealer near Kingston, offering a range of new and pre-owned Ford vehicles. As an authorized Ford dealer in Ontario, they are committed to providing exceptional customer service and ensuring your car-buying experience is enjoyable and stress-free.
When it comes to finding a reliable used car dealer in Belleville, Benton Fry is a name that stands out. As a leading car dealership near Kingston in Belleville, takes pride in providing exceptional customer service. Their knowledgeable and friendly staff are dedicated to helping you find the perfect vehicle that suits your budget, preferences and lifestyle. Whether you're looking for a reliable sedan, a versatile SUV, an eco-friendly EV or a powerful truck, the team will assist you in finding the right fit. As a premier car dealer in Belleville, has vast inventory ensures you'll find the right vehicle at the right price in a stress-free environment. 
As a reputable and trusted Ford dealership in Belleville, they provide a seamless car buying experience. Their professional and experienced staff guide customers through the entire process, from selecting the ideal vehicle to securing financing options that suit individual needs. With their customer-centric approach, Benton Fry Ford aims to make every customer feel valued and satisfied with their purchase.
In addition to being a reputable car dealership in Belleville, Benton Fry Ford is an expert in all things Ford in Kingston, Trenton and surrounding areas. As a proud Ford dealer in Ontario, they offer a wide selection of new and used Ford vehicles, including popular models such as the Ford F-150, Ford Escape, and Ford Explorer. Whether you're in the market for a reliable pickup truck, a versatile SUV, or a fuel-efficient sedan, Benton Fry Ford has the perfect Ford vehicle to suit your needs.
Benton Fry Ford is not just a car dealership; it's a trusted partner that ensures customer satisfaction even after the purchase. As a full-service car dealership, they offer comprehensive maintenance services to keep your vehicle in top condition. With a dedicated service department staffed by certified technicians, they provide top-notch maintenance and repairs for all vehicle makes and models. Their commitment to excellence extends to their parts and accessories department, where customers can find genuine Ford parts to keep their cars running smoothly.
Benton proudly serves the local community and beyond as a reputable Ford dealer in Belleville, Ontario. Their commitment to quality, exceptional customer service, and a wide selection of vehicles have earned them a stellar reputation. Whether in Belleville, Kingston, or close to Trenton, Coburg, Prince Edward Country or Brighton, Fry Ford is your go-to destination for finding your next Ford vehicle or a reliable used car. Visit them today and experience the difference of a trusted car dealership dedicated to exceeding customer expectations