Ford Super Duty: Unmatched Power & Durability
FORD SUPER DUTY IN BELLEVILLE, NEAR BRIGHTON, TRENTON, KINGSTON, COBURG AND PRINCE EDWARD COUNTY
Are you in the market for a reliable and powerful truck? Look no further than the 2023 Ford Super Duty lineup available at Benton Fry Ford. With its impressive capabilities, advanced features, and durable construction, this Ford series of trucks has been a top choice for drivers seeking heavy duty trucks. This resource page will highlight the key benefits of owning this heavy-duty pickup truck from Ford, focusing on the 2023 models and the popular variants such as the Ford F-250 Super Duty, Ford F-350 Super Duty, and Ford F-450 Super Duty.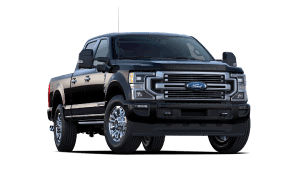 Unmatched Power and Performance
When it comes to heavy-duty trucks, the 2023 Ford Super Duty stands out with its exceptional power and performance. Whether you opt for the F 250, F 350, or F 450, you can expect impressive towing and hauling capabilities. This heavy-duty lineup is engineered with robust engines, including the available 6.7L Power Stroke® V8 Turbo Diesel engine, delivering remarkable torque and horsepower for your most challenging tasks. With its enhanced suspension and reinforced frame, these pickups offer a stable and controlled ride, ensuring optimal performance in any condition.
Durable and Reliable Construction
Ford is renowned for its commitment to durability and reliability, and the 2023 Super Duty is no exception. These trucks are built with high-strength, military-grade aluminum-alloy bodies, which provide exceptional strength while reducing weight. The fully boxed frame is made of up to 95% high-strength steel, ensuring rigidity and durability. With advanced engineering and rigorous testing, this pickup truck can withstand the demands of heavy-duty applications, making it a trusted companion for work and adventure.
Advanced Technology and Features
The 2023 Ford Super Duty has cutting-edge technology and features to enhance your driving experience. Inside the cabin, you'll find a 12-inch touchscreen infotainment system that integrates seamlessly with your smartphone. With features like Apple CarPlay, Android Auto, and FordPass Connect, you can easily access your favourite apps and stay connected on the go. These trucks also offer available driver-assist technologies, such as Pro Trailer Backup Assist, Blind Spot Information System, and Adaptive Cruise Control, providing peace of mind and added convenience.
Versatility and Customization
The Ford 2023 lineup offers a wide range of configurations and options, allowing you to customize your truck to suit your specific needs. Whether you require a spacious crew cab, a versatile extended cab, or a regular cab configuration, this heavy-duty truck has you covered. With various trim levels, packages, and available features, you can tailor your truck to meet your preferences, whether you prioritize luxury, off-road capability, or work-focused functionality.
Fuel-Efficient Diesel Options
For those seeking a balance between power and fuel efficiency, the 2023 Ford Super Duty offers Ford diesel engine options. The available 6.7L Power Stroke V8 Turbo Diesel engine provides impressive torque and towing capacity while delivering efficient performance. Ford's diesel technology is designed to maximize power and optimize fuel economy, allowing you to get the job done without sacrificing efficiency.
This 2023 Ford pickup series is a testament to Ford's commitment to excellence in the heavy-duty truck segment. With its unmatched power, durable construction, advanced technology, and customization options, this truck is a reliable partner for work and play. Visit Benton Fry Ford today to explore the 2023 lineup, including the Ford F250, Ford F450 and F350 Super Duty, and experience the benefits of owning one of these amazing trucks firsthand. Get ready to take on any challenge with confidence and style.